Waterloo Black Hawks

Arena Name: Young Arena
Capacity: 3,500
Built: 1994
Address: 125 Commercial Street, Waterloo, Iowa, 50701
Telephone No: (319) 291-4300
Ice Surface Size: Olympic
Franchise Date: 1979-80
USHL Championships: 1, 2003-04
Anderson Cup Championships: 1, 2006-07
Colors: Black, Red & White
Official Web Site: http://www.waterlooblackhawks.com/
Venue Web Site: Young Arena
Unofficial Site: Hawk Talk Fan Forum
Google Satellite: Click Here

Young Arena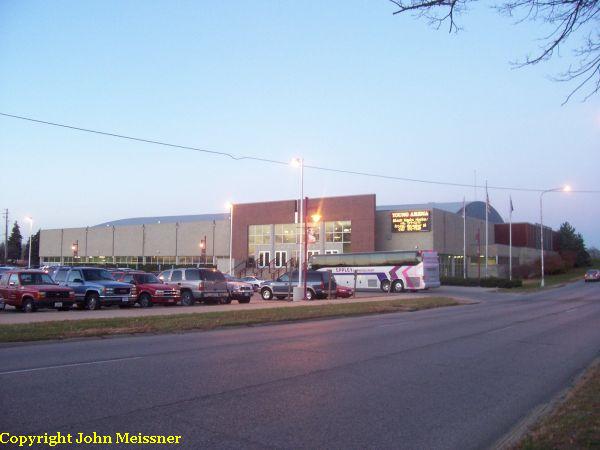 What's the Arena Like?
Young Arena boasts one of the best hockey atmospheres in the entire league. They arena is small, maxing out a 3,500 fans, and the ceiling is low. The sound in the arena can get almost deafening, especially when you factor in the cow bells that are used. There is standing room behind the net, and it feels as if you're right on top of the play when you stand there and watch. They also have an awesome horn there that has many different horns and sirens that adds to the atmosphere. On the penalty box side of the arena, you can look out the windows at the river. It's a nice little piece of scenery.

The seating at Young Arena features seats on both sides of the ice, and also has bleacher seats on the far end. There are seats along the glass opposite of the bleacher end, but I don't know how you go about getting them. Above those seats is the standing room, which is a great view.

Young Arena seemed to have pretty normal things as far as concessions. Whenever I would go, I would constantly hear how great their taco in a bags were. A friend of mine has had a couple and there have been no complaints. The merchandise stand, The Hawks Nest, features just about everything you could need, ranging from shirts to pucks to yes, cow bells.

If you're not a fan of cow bells, then Young Arena may not be a place for you. Their fans will ring the bells as much as they can, and for every possible thing. A Waterloo player can skate out of the zone and have 3 players draped on him, but that won't stop the bells from ringing. There also isn't much room to walk behind the seating area, so it gets extremely crowded during intermissions.

Future Developments
There are no plans to renovate or replace Young Arena.


What Is It Like For Away Fans?
If you can appreciate a great hockey atmosphere, then you should enjoy that. The excessive cow bell ringing will probably get on your nerves quickly. I have never had any issues with their fans, but the arena just gives off a hostile feeling. If you're a Cedar Rapids fan, then I'd just be a little more aware, as that rivalry is extremely intense for the players AND the fans. If you're able to catch a game between these two teams, I'd recommend doing so.

Intimidation Factor: HIGH


How To Get There
There are many, many different routes that can be taken to get to Young Arena. Here is a link to Google Maps, in which you can put in your address and get the best possible route.Find Directions Here.

Parking is on-site and free. It's probably best to park in an adjacent lot, as it should be easier to get out going that route.

Admission Prices
Red Section: $13
White Section: $12
Blue Section: $10

Seating Chart
Inside Young Arena Arena
Franchise History
Waterloo has had hockey for many years, longer than any other team in the league. They played most, if not all, seasons before the USHL went to an all junior league. Prior to the 1980-81 season, Waterloo relocated to Dubuque and became the Fighting Saints. At the same time, the Hennepin Nordiques relocated their franchise to Waterloo and kept the Black Hawks name. In 2004, the Hawks won their fist ever Clark Cup championship, ending a 25 year drought.


Local Rivals
Cedar Rapids is Waterloo's biggest rival on the ice and in the stands. The rivalry between these two is the most intense in the league. Waterloo also rivals Des Moines and Chicago to an extent.


Places to Eat Near Young Arena
There is a limited selection in the immediate area of the arena. There is a Burger King, Happy Chef, and The Penalty Box. The Penalty Box is a bar located right across from the arena, and it is supposed to have decent food. If you travel a little further away from the arena, you will come across Brown Bottle, Doughy Joey's, Red River Steak House, and Jameson's Pub. The person who mentioned the last group of places would recommend Jameson's Pub.

Feedback
If anything is incorrect or you have something to add, please e-mail me at JaskulaR@aol.com and I'll update the guide.


---
Copyright © Rob Jaskula 2007-08.
All rights reserved.
Last Revised: February 15, 2008

---