Sioux Falls Stampede

Arena Name: Sioux Falls Arena
Capacity: 4,600
Built: 1999
Address: 1201 N. West Avenue, Sioux Falls, South Dakota, 57104
Telephone No: (605) 367-7288
Ice Surface Size: Not Regulation
Franchise Date: 1999-00
USHL Championships: 1, 2006-07
Anderson Cup Championships: 1, 2005-06
Colors: Blue, Black & White
Official Web Site: Sioux Falls Stampede
Venue Web Site: SF Arena
Unofficial Site: Stampede Message Board
Google Satellite: Click Here

Sioux Falls Arena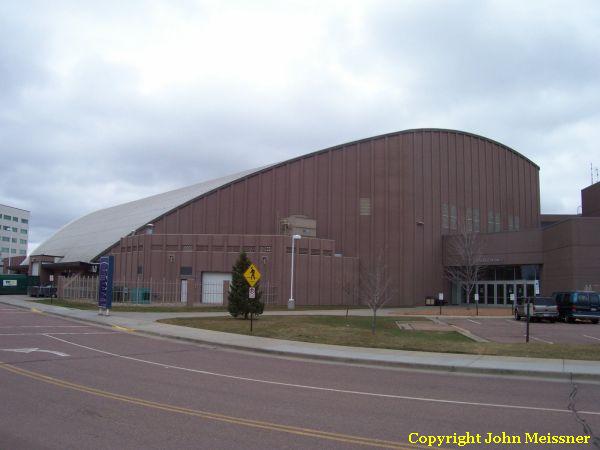 What's the Arena Like?
The Sioux Falls Arena is located among a nice hotel and an abundant amount of convention centers. Most things seem very nice, though the arena is not the best for viewing hockey (will touch on this later). The Sioux Falls Arena lacks a video board, but they do have a couple of animation boards on both ends of the ice. The ice size is probably the smallest in the league, so it gives the Stampede a distinct advantage over visiting teams.

The Sioux Falls Arena features seating behind the benches and penalty boxes. These seats go almost all the way up to the roof, also known as the nose bleeds. They have "suites" behind each goal. There are also seats along the glass behind each net, though I'm not sure who is able to sit there.

There are four concession stands in the arena, two on each side and one on each floor. They also have pizza stands near the concession stands as well as an ice cream stand. The Sioux Falls Arena has basic food, but also have nice things like chicken strips and fries. There are more, but I can't think of anything else right now, though I would recommend the chicken strips. Prices seem a touch high, but that will come along with going to sporting events. There is a merchandise stand right as you walk in, and their prices seem a bit high for little souvenirs.

Now for the negative things about the arena. The Sioux Falls Arena is probably the worst arena I have witnessed a hockey game in. The seating does not go to ice level, so it gives you the feeling that the play is really far away, and it also makes for tons of blind spots. The staff at the arena also checks purses when you go in. I've never seen this at any other USHL arena I've been to and it seems to be more of a nuisance than anything. The seats are also hard, wooden seats and aren't all that comfortable.

Future Developments
There has been much talk about a possible new arena, though nothing has ever come of it. The arena plans seem to get to a vote, where it is constantly voted down. A brand new arena in Sioux Falls would probably be the best thing to happen to that hockey franchise.

What Is It Like For Away Fans?
There is a tiny bit of atmosphere in the arena, though it doesn't seem to last for more than a few moments at a time. Due to the fact there are moments of intensity, I am giving it a medium rating for intimidation factor. Despite an awful place to watch hockey, Sioux Falls averages quite a few fans, so there will obviously be more chances to run into some bad fans.

Intimidation Factor: MEDIUM
How To Get There
From I29 (Northbound): Take the Russell Street Exit (Exit 81) and make a left at the lights. Continue on Russell Street until you come to N West Avenue. Make a right onto N West Avenue and the arena will be directly to your right.

I29 (Southbound): Take the Russell Street Exit (Exit 81) and veer to the right, merging onto Russell Street. Continue on Russell until you come to N West Avenue. Make a right on N West Avenue and the arena is to your right.

There is also ample parking, and it is free.
Admission Prices
Skybox Suites: $45
Lower Level Center (Yellow): $15.50
Middle and Sides (Purple): $13.50
Upper Center and Sides (Blue): $11.50
Upper Level (Gray): $7.50
Special Needs: $6.00

Ticket prices go up $1 day of game for all seats, excluding the Suites.

Seating Chart
Inside Sioux Falls Arena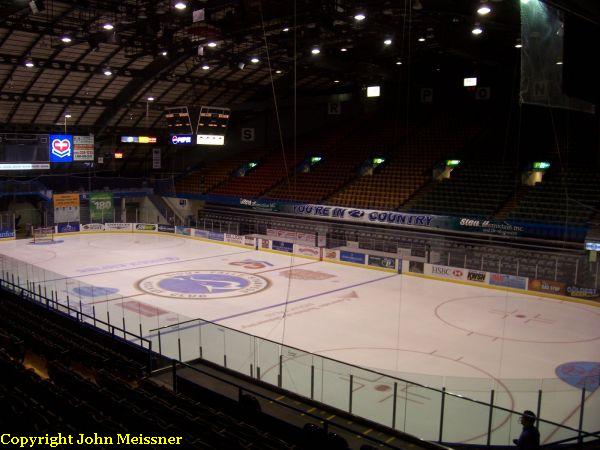 Franchise History
Sioux Falls was awarded an expansion team for the 1999-2000 season. The Stampede have had a few down years, but appear to be on the winning side since they hired Kevin Hartzell to man the bench. After a brief playoff hiatus, the Stampede have been in the Finals the last two years. It was just recently announced they will host the 2009-2010 USHL All-Star Game as part of their 10th Anniversary celebration.

Local Rivals
Sioux Falls is the northern-most West Division team, so their closest rival is Sioux City. These two have become heated rivals over the years. Outside of Sioux City, the Stampede also battle tough with Omaha and Lincoln.

Place to Eat Near the Sioux Falls Arena
There are a handful of eating options near the arena. There is Castaways restaurant in the Ramada Inn, located right across from the arena. There is also Michael's Steakhouse a few minutes west. On the other side of the Canaries baseball stadium, there is Nutty's North and Buffalo Wild Wings. Other places include Taste of India, Sheraton Hotel (attached to the arena), and Burger King.
Feedback
If anything is incorrect or you have something to add, please e-mail me at JaskulaR@aol.com and I'll update the guide.



---
Copyright © Rob Jaskula 2007-08.
All rights reserved.
Last Revised: February 15, 2008

---